Maxwell-Gunter Air Force Base
Maxwell-Gunter AFB is centrally located in Montgomery Alabama, 82 miles south of Birmingham, and 162 miles from Atlanta, Georgia. A population of more than 12,500 active duty, reserve, civilian and contractor personnel have a significant economic and cultural impact on the River Region.
The city of Montgomery, known as "Best Hometown in the Air Force," is the capital city of Alabama and the county seat of Montgomery County. It sits alongside the Alabama River and is the second most populous city in Alabama behind Birmingham.
Maxwell AFB is considered the "intellectual center for airpower education." The base, also known as Maxwell-Gunter Air Force Base, occupies the site of the first Wright Brothers' flying school, which was built on this site in 1910. Maxwell Air Force Base is under the Air Education and Training Command (AETC) and is the headquarters of Air University (AU). It is also the U.S. Air Force's center for Joint Professional Military Education (PME). The host wing for Maxwell-Gunter is the 42d Air Base Wing whose mission is to ensure Airmen are ready to deploy in support of U.S. military operations worldwide.
Comprised of about 4,000 military and civilian personnel, Air University is the largest tenant unit on base. Air University graduates more than 50,000 resident and 160,000 non-resident officers, enlisted and civilian personnel each year. AU operates more than 650 academic, professional military and continuing education programs. This includes the Air War College, the Air Force Institute of Technology, Air Command & Staff College, and the School of Advanced Air and Space Studies, among others.
The Air Force Reserve Command's 908th Airlift Wing is a tenant unit and the only operational flying unit at Maxwell. The 908th AW and the 357th Airlift Squadron operate eight C-130H Hercules aircraft in support of combatant commanders worldwide.
Gunter Annex is a separate installation under the 42nd ABW and was consolidated under Maxwell AFB in 1992 to create a combined installation known as Maxwell-Gunter AFB. Maxwell AFB is also home to the Federal Prison Camp, Montgomery, a minimum-security facility for male inmates.
Read More
Off-Base Neighborhoods
Although Montgomery is close by Maxwell AFB, most of the housing is older and smaller. Military families prefer neighborhoods slightly farther away, even if it means a commute to base. Some recommendations are Deer Creek and Providence to the east, or the Prattville area to the northwest of base.
On Base Housing
There are a variety of housing choices in and around Maxwell AFB. The Maxwell Housing Management Office is a good place to ask questions. Hunt Companies manage the 750 homes between Maxwell AFB and the Gunter Annex, which make up Maxwell Family Housing.
Base housing includes central AC/Heat, ceiling fans, energy-efficient appliances, gated community, 24-hour emergency maintenance services, pest control, and landscaping services.
Schools
Maxwell AFB has a DoD elementary and middle school for Pre-K to 8th grade for Maxwell and Gunter AFB housing residents. On-base Maxwell residents are authorized for Carver Senior High and Gunter residents are approved for Robert E. Lee High School.
Cost of Living and BAH
The cost of living in Montgomery, AL is 8% below the national average. Most military families find the cost of housing to be very reasonable. Maxwell AFB BAH matches the affordable housing in the surrounding area. BAH at Maxwell AFB varies depending on rank and whether or not you have dependents. To determine your BAH at Maxwell AFB, use our BAH calculator.
BAH Calculator
Housing Costs
Housing in Montgomery, AL is affordable, so military families will have many options to rent or buy off base if they choose. The median home value in Montgomery is $118,000. Average rent for a 3-bedroom apartment is $1,124.
Weather
Summers are long and hot in this part of Alabama. The good news is the cold winters are short! Temperatures are highest over the summer months, usually reaching the 90s. The warmest months are May, June, July, August, and September.
During the winter months, temps rarely drop below 25°F. The coolest months are December, January, and February, with an average low of 39°F and a high of 58°F.
Base Amenities
On-base housing provides walk-able neighborhoods with easy access to the community center, parks, a pool, and playgrounds. There are also youth centers, fitness centers, a BX/Commissary, Child Development Center, swimming pools, barber shop, beauty shop, and Post Office.
Area Attractions
Maxwell AFB is close to the Montgomery metro area, with recreational activities, entertainment, dining, shopping, and cultural events to enjoy.
Montgomery is known as the birthplace of the Civil Rights Movement, so history buffs will be especially excited. The Rosa Parks Museum, the Montgomery Museum of Fine Arts, and the Alabama State Archives and History Museum are three great museums to start.
The Alabama National Fair, during the first week of October, celebrates this deep southern state with a Choral Festival, an In-Flight Frisbee Dog Show & Dock Diving Show, Kachunga & The Alligator Show, Creative Living Center, and many other attractions with lots of fun and enjoyment.
The First White House of the Confederacy features civil-war-era items donated by the family of Jefferson Davis. Davis was the one and only President of the Confederacy, serving from 1861 to 1865.
Permanently housed in the Carolyn Blount Theatre, one of the ten largest Shakespeare festivals in the world is based in Montgomery. Productions are staged up to 14 times a year, including up to three Shakespeare productions.
Riverfront Park is a popular venue for concerts and other events. There is a splash pad and access to the river for boating. Locals like to pack a picnic lunch and watch the boats go by. For sports fans, there are baseball games at Riverwalk Stadium.
Eastbrook Antique Hall features rare antiques and estate-sale finds. The main floor houses antiques, with the second floor set up as a Flea Market.
A downtown Montgomery museum dedicated to country star Hank Williams is a favorite of country music fans. This attraction is home to his infamous blue Cadillac, his 1947 Gibson guitar, autographed albums, and his stage costumes.
Food and Drink
Maxwell AFB is in the deep south, so you can enjoy all kinds of favorite Southern foods here: fried chicken, fried pork skins, BBQ ribs, shrimp and grits, fried green tomatoes, and fresh peach or pecan pie. Montgomery has a good variety of restaurants, so there are plenty of chains and non-Southern options too.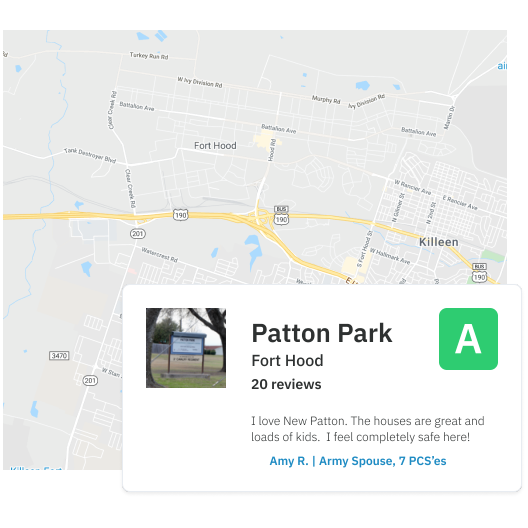 Research Your Area Before Your Move
Discover area guides and trusted reviews by and for the military and veteran community for local neighborhoods, base housing, moving companies, lenders, schools, and more.
Access Review