MacDill Air Force Base
MacDill Air Force Base -- home to the 6th Air Refueling Wing -- is in the heart of Tampa, with gulf coast beaches and plenty of suburban communities. The installation started as MacDill Field before World War II and became an Air Force base in September 1947. In addition to the 6th ARW, MacDill is also home to United States Central Command and the United States Special Operations Command.
The area has a lot of outdoor opportunities and great nightlife and restaurants. Orlando is just an hour away, and everyone who moves here should consider getting a Sunpass to help limit the number of fees or penalties that can accrue while driving around the area.
Read More
Off-Base Neighborhoods
One of the benefits of MacDill AFB is that it's so close to a big city which means there are many housing choices. Suburban options include Brandon, Riverview, and Valrico -- which are very popular among school-aged families -- and are within a 15-to-25-minute commute of the installation. St. Petersburg side of town has positives, but it is often overshadowed because of the unpredictability of the bridge and its closures.
On Base Housing
Families choosing to live on base will live in one of the five neighborhoods that make up the Harbor Bay community. Residents are close to the base amenities and have access to the resort-style pool, basketball courts, and a fitness room in the Welcome Center. You'll also have baseball and soccer fields as well as dog parks throughout the community. The Harbor Room is available to rent for special events.
Residents are invited to participate in housing-led events throughout the year including Octoberfest, Earth Day events, and popcorn after school on the first Friday of each month.
Schools
Families that live on base and in the local area of MacDill AFB attend schools in the Hillsborough County School District, the eighth largest in the U.S. In this county, students can attend any school that is open to them, even if they are not zoned for it. There is a period of an open application, and a lottery system is used for magnet schools as well as selecting a school of choice.
Students that live on base attend Tinker Elementary School, which serves grades K-8 and is located on base. Robinson High School -- located just outside the gates -- is the zoned high school for MacDill AFB resident families.
Cost of Living and BAH
The cost of living in Florida, and particularly in the Tampa area, is above the national average, which corresponds to the cost of housing in the area around MacDill AFB. And while MacDill AFB BAH is higher than most installations, and it may not be enough to cover the rental rates in such a high-demand and high cost-of-living area. 
MacDill AFB BAH varies depending on rank and whether or not you have dependents. To determine your BAH at MacDill AFB, use our BAH calculator.
BAH Calculator
Housing Costs
The median sales price home in Tampa is $389,000, at about $249 per square foot. The nearby towns of Brandon, Riverview, and Valrico are priced similarly, with Valrico being the most expensive at around $430,000. The rental market is robust, but prices may not align well with BAH.
Weather
MacDill AFB is true Florida weather, where the summers are long, hot, and humid. April to November is the summer season and you can expect higher utility bills. Winters are mild, and spring and fall are very short. Often it seems like "not summer" and summer are the two main seasons. From November to April, lows are in the 50s. It rains almost every day, but only for a little bit, which is very welcome in the summer.
Base Amenities
MacDill AFB has many amenities; you won't have to go off base for everything. From the 36 holes at Bay Palms Golf Course to bowling to enjoying a picnic by Lewis Lake, there's something for everyone on base. The commissary is open seven days a week and the Exchange has Docs Dental and The Joint Chiropractic, as well a tattoo parlor and optometrist.
Area Attractions
There are so many things to do in the Tampa area, including Busch Gardens, Adventure Island, and Dinosaur World. Also in the Hillsborough County area are several museums, ZooTampa, and the Florida Aquarium. Alafia River State Park and Hillsborough River State Park are great places for those who enjoy the outdoors.
One very popular event is Gasparilla, a huge festival that celebrates the history of Tampa Bay. A family-friendly carnival during the day and a Mardi Gras nightlife, Gasparilla is an event everyone should experience. Tampa also has several professional teams, giving each sports fan something to do. There are many farmers' markets in the area, including Downtown Tampa Market, Dunedin Green Market, Fresh Market a Hyde Park Village, Friday Fresh Market, and Gulfport Fresh Market.
Food and Drink
Food variety is great in the area, specifically with a huge selection of Hispanic cuisine. If you're looking for a wilder nightlife scene, Ybor City offers bars, clubs, and all manner of restaurants. For fine dining and quiet date nights, Circles Waterfront in Apollo Beach is highly recommended. Sunset Grill and Beach in Ruskin features a relaxed beach vibe and live music. And for breakfasts right on the beach, try Seahorse in Pass-A-Grille Beach.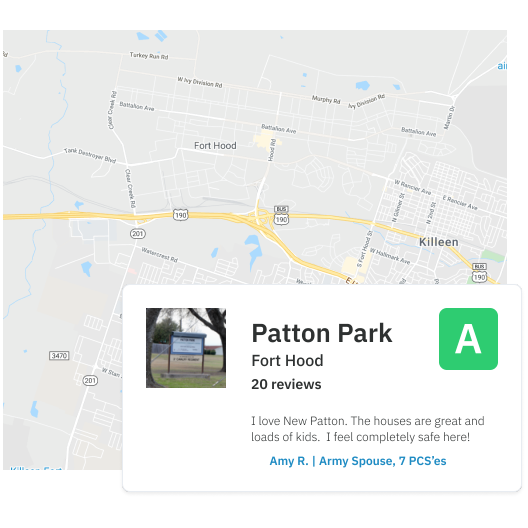 Research Your Area Before Your Move
Discover area guides and trusted reviews by and for the military and veteran community for local neighborhoods, base housing, moving companies, lenders, schools, and more.
Access Review