Laughlin Air Force Base
Laughlin AFB is the largest pilot training base in the Air Force. Home to 47th Flying Training Wing, the base was established in 1943 and graduates more than 300 students per year.
Laughlin AFB is located in the West Texas town of Del Rio and holds a population of around 1600. Del Rio is in Val Verde County and has a population of about 40,000 people. The town is directly across the border from the Mexican city of Ciudad Acuna, and separated only by a 2,035 ft. international bridge. Ciudad Acuna was for decades known as a favorite tourist destination for Texans, bikers, and college students who loved the party vibe. The city was made even more famous for its cameos in Robert Rodriguez movies such as El Mariachi and Desperado. Tourism in the area has now died off due to fear of cartel violence.
Neither Service Members nor their families are permitted to cross the border, but the two cultures remain inextricably linked.
Read More
Off-Base Neighborhoods
There are a few off base neighborhoods that are increasingly popular with military families. Many of them are rated better because it is very cheap to live off base here and the houses are often newer and nicer. There are multiple neighborhoods that have A or B ratings by reviewers and have homes available for rent or purchase. The most popular are in Del Rio, a few miles away from the base: Buena Vista, The Reservation, Ceniza Hills, Val Verde, and Alta Vista.
On Base Housing
Hunt Military communities manages base housing at Laughlin. The community is comprised of two, three, and four bedroom homes. PCSgrades reviewers tend to agree that the houses are older and small and the community has the overall grade of a C.
Schools
There are no schools on Laughlin AFB. Military children living on base or in town will attend public schools in the San Felipe Del Rey Consolidated Independent School District. There are a few private schools near base, and some families choose to homeschool.
Cost of Living and BAH
The Laughlin AFB BAH is low because of the incredibly low cost of living in this area. Don't be alarmed if you see your BAH decrease when coming from another Air Force base! There are many options to use your BAH to rent or buy in the Laughlin area. BAH at Laughlin AFB varies depending on rank and whether or not you have dependents. To determine your BAH at Laughlin AFB, use our BAH calculator.
BAH Calculator
Housing Costs
The cost of living is low in Del Rio, way under the national average and well below the Texas average. The median home cost is around just $125,000 making the town an attractive place to purchase a home whether you decide to stay in Del Rio or perhaps to rent to other military families or border guard families.
Weather
There is no avoiding the fact that it's hot here. The summer is long, hot, and relatively humid. Temperatures frequently creep above 100 in the summer months and rarely drop below 40 in the winter. The area rarely receives any snow or ice and even rain isn't regular; however, when it does storm, you do want to be aware that tornadoes can occur.
Watching the local TV stations or listening to the local radio stations is an excellent way to stay informed during storms. While tornadoes can happen any time of year, they most commonly occur March-August. An important thing to remember for safety is that a Tornado Watch means that conditions are favorable for tornadoes. A Tornado Warning means that one has been spotted in the area.
Otherwise, enjoy all the warm weather by spending time outdoors. The weather is great for water activities 9 months out of the year.
Base Amenities
Base amenities at Laughlin AFB include a fitness center, golf course, tennis courts, in conjunction with the usual facilities like the BX and the Laughlin AFB commissary.
Area Attractions
As you can imagine, being right across the border from Mexico, the cultures of Del Rio and Ciudad Acuna are inseparable. This unique Mexican- American Culture is most evident in the town's thriving art scene and the wonderful, friendly, and welcoming locals. Del Rio might not be a thriving metropolis, but the town has some charm and there are some things that are worth experiencing and a beautiful lake that can provide recreation year round for an active family that likes the outdoors.
AMISTAD NATIONAL RECREATION AREA: This massive 57,000-acre park can accommodate any outdoor recreation you prefer from hiking to kayaking, bird watching or camping, there is a place to do it all. Three Rivers and an expansive man-made reservoir provide for lots of opportunity for water fun, and there are some interesting cave paintings for archaeology enthusiasts.
VAL VERDE WINERY: A must for any wine enthusiast, this winery is the oldest continuously operating winery in Texas. Family owned and operated for four generations, their award- winning wines are crafted in small batches and made with lots of love and care. After taking advantage of their complimentary tasting and tour, purchase your favorite to take home with you.
WEEKEND GETAWAYS: Texas is a really big state, and it takes a while to get just about anywhere, but if you are feeling like a change of scenery for a weekend there are a few fantastic places only a few hours away.
SAN ANTONIO: So maybe San Antonio is more of an overnight or weekend destination, but when you are feeling the itch for some big city life, the three-hour drive is well worth it. For families, there is Sea World, Fiesta Texas, and the San Antonio Zoo – all destinations that could take up an entire day. If theme parks aren't your idea of fun, there is the San Antonio River Walk, the Pearl Brewery, and multiple annual events like Fiesta, and the Rodeo that are well worth the trip. Check out our San Antonio Area Guide to see what all the destination offers.
CORPUS CHRISTI: Corpus is a great destination for relaxing at the beach or heading to the Texas State Aquarium. Also of interest is the USS Lexington which now houses a naval aviation museum. Padre and Mustang Island are also great beaches and just a short trip from Corpus.
BIG BEND NATIONAL PARK: Possibly the most beautiful place in Texas, Big Bend National Park has mountains, canyons, and the Rio Grande River. It boasts the most significant diversity of species in Texas and remains one of the last unspoiled expanses of nature in our nation. Though it's around 3.5 hours away, it is an experience you will never forget.
Food and Drink
While Del Rio has several chain fast food places, there are also several mom and pop gems and of course some delicious Mexican food. Some of the local offerings consist of steakhouses, pho, Texas BBQ, and of course tacos! Breakfast tacos, Tex-Mex tacos, street tacos…Del Rio has your taco cravings covered.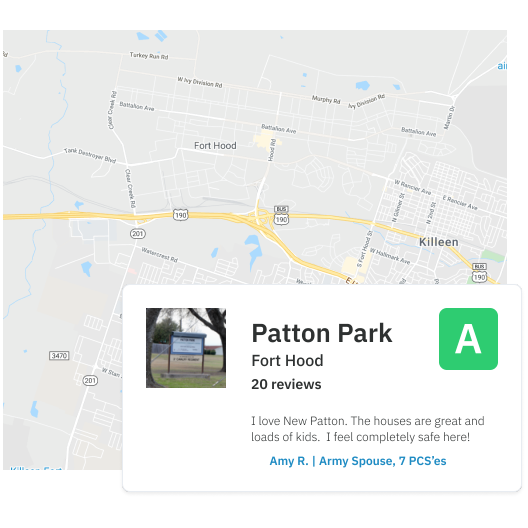 Research Your Area Before Your Move
Discover area guides and trusted reviews by and for the military and veteran community for local neighborhoods, base housing, moving companies, lenders, schools, and more.
Access Review