Langley Air Force Base (Joint Base Langley-Eustis)
Hampton Roads is one of the seven major cities that comprise the Hampton Roads metropolitan area on the southeastern end of the Virginia Peninsula. The Virginia Beach–Norfolk–Hampton-Newport News area has a population of over 1.7 million, making it the 37th-largest metropolitan area in the U. S. The region includes Newport News, Hampton, Norfolk, Virginia Beach, and Chesapeake.
Located in Newport News and Hampton Roads, Joint Base Langley-Eustis (JBLE) is comprised of two groups that provide installation support to more than 9,000 military and civilian personnel including Headquarters Air Combat Command and three operational wings. Although JBLE is a joint base, it is not contiguous. There are 17 miles of interstate between the two installations. Langley AFB is located in Hampton while Ft. Eustis is in Newport News. JBLE serves a large population made up of over 145,000 active duty, guard and reserve, family members, civilians, contractors, and retirees.
Read More
Off Base Neighborhoods
There are many great neighborhoods within a 10-15 minute drive from Langley. Your BAH for Langley AFB may help you rent or buy a home in nearby cities including Yorktown, Williamsburg, Hampton, Newport News, and Poquoson.
On Base Housing
There are many options for housing at Langley AFB. Five communities encompass 1,430 new, renovated, and historic single-family, duplex, fourplex, and sixplex homes. Property features include playgrounds, tennis courts, and basketball half-court.
Schools
There are no DOD schools at Langley, but there are two school systems serving the base. Military kids at Langley AFB attend Hampton City Schools, with 36 schools and approximately 23,000 students. One elementary, one middle school, and one high school serve as primary feeder schools.
Bethel Manor residents attend York County Schools, with 19 schools and approximately 13,000 students. Two elementary, two middle and two high schools serve Bethel Manor, depending on your location.
Cost of Living and BAH
Joint Base Langley-Eustis BAH is calculated for the Newport News area, which has an average cost of living when compared to other parts of the country. It is much more affordable than Northern Virginia, but more expensive than some Army bases located in the heartland. In 2020, JBLE BAH rates range from $1,203-$1,854 for enlisted personnel and $1,413-$2,226 for officers.
BAH Calculator
Housing Costs
The median sales price for homes in Newport News is $175,000. Virginia general sales tax is 4% higher than the national average and the Virginia state income tax is 10% lower than the national average. So, depending on where you are PCSing from will determine if the cost of living seems reasonable to you. Moving to Hampton Roads from the Washington D. C. area might mean the cost of living seems very reasonable to you. If you're moving from Altus AFB in Oklahoma, not so much.
Weather
Springtime brings thunderstorms that produce gusty winds, hail, and occasionally, tornadoes. Temperatures rise to an average of 57.5 degrees during March, April, and May. Summers are often described as hot and humid while the fall brings welcome relief with temps in the mid 60's. Snowfall over the winter months averages 7.1 inches each year with the average temperature in the mid-forties. The weather at Langley AFB doesn't put a damper on the fun things to do in the area. Rain or shine, we'll help you plan your bucket list for Hampton Roads.
Base Amenities
Property features in Langley Base Family Housing include newly constructed shoppettes, state-of-the-art fitness facilities, splash park, indoor and outdoor pools, bowling alley, camping facility, dry cleaners, movie theater, shooting range, veterinary clinic, and 18-hole golf course.
Area Attractions
Take a trip into the past at Colonial Williamsburg and the Jamestown Settlement. You can also interact with colonists as you walk the historically accurate Duke of Gloucester Street.
Virginia Beach is the largest city in Hampton Roads. It features a beach, boardwalk, a live music venue, the Sportsplex, museums, parks, and a variety of shops and restaurants.
Newport News is a favorite destination for campers who love the great outdoors is 8,000+ acres featuring forests, 30 miles of hiking trails, a 5-mile mountain bike trail, a 5.3-mile bikeway, and two fresh-water reservoirs. Also, there are bike rentals available, along with boat, canoe, and paddleboat rentals. The park has a 180-site campground, playground, aeromodeller's flying field, freshwater fishing and golf, archery range, picnic shelter, arboretum, and two stages.
The Nolan Trail is often referred to as an urban oasis. The trail is a 5-mile loop around Lake Maury, with 14 bridges, several overlooks, and benches to rest on every half mile or so. It has been a popular strolling and jogging route for more than 25 years.
Virginia Living Museum is a combination aquarium, zoo, botanical garden, and science center, showcasing animals and plants native to Virginia. Additionally, visitors experience animals native to Virginia in habitats, discovery centers, and interactive exhibits.
Yorktown Beach is located in historic Yorktown is a 3-acre beachfront featuring a fishing pier with no entry fee, no requirement for a fishing license, and a 10-acre grass picnic area. Rentals include kayaks, paddleboards, and bikes. Shower facilities are open all summer. A hundred weddings a year happen at scenic Yorktown Beach. Also, next to the beach is Riverwalk Landing, a mile-long shopping and entertainment area. Tall ships, traditional sailing ships with huge masts from countries around the world, are often seen sailing on the York River.
The Yorktown Battlefield is the site of the last major battle of the American Revolutionary War. Park Rangers lead guided walking tours of the battlefield and the 18th-century town. You can also drive through the battlefield and visit the Moore House, scene of surrender negotiations; and Surrender Field, among other sites.
Food and Drink
Seafood is popular in the coastal areas. Blue crabs are prepared in many ways such as crab cakes, crab imperial, soft-shelled in season, or simply plain crab meat that is picked from its shell and dipped in melted butter. Barbecue in Virginia is mostly pork with a vinegar-based sauce which is similar to barbeque in North Carolina. Smithfield ham, sometimes called Virginia ham, is a type of country ham which is only produced in the town of Smithfield. There are over 230 wineries in the state of Virginia including several wineries on the Lower Peninsula.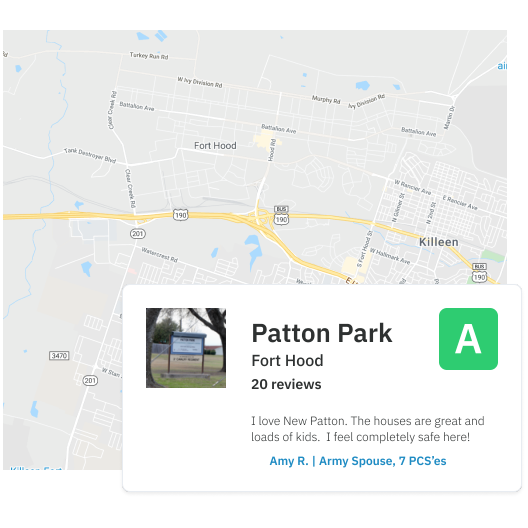 Research your area before your move
Discover area guides and trusted reviews by and for the military and veteran community for local neighborhoods, base housing, moving companies, lenders, schools, and more.
Join for free
PCSgrades and Realogy Military Rewards
For over 30 years Realogy's nationwide network of A-Team agents has served the military and veteran community with 95% of their customers, just like you, recommending their agent and the program. PCSgrades is proud to offer Realogy Military Rewards.
Get Started