Kirtland Air Force Base
Kirtland Air Force Base is a United States Air Force base located in the southeast quadrant of the Albuquerque, New Mexico urban area, adjacent to the Albuquerque International Sunport. Albuquerque New Mexico is one of the oldest cities in the US and known for its multicultural diversion. The weather is warm all year round and makes it the perfect place for outdoor activities such as biking and hiking.
Albuquerque is known for being the hot air ballooning capital of the world. All year long you can see colorful hot air balloons throughout the clear blue sky. The cities near Kirtland AFB are: Albuquerque, Bosque Farms, Los Lunas, Edgewood, Bernalillo, Corrales, Placitas, and Rio Rancho.
Kirtland AFB is the largest installation in Air Force Global Strike Command and sixth largest in the Air Force. Kirtland AFB covers 52,000 acres and employs over 23,000 people, including more than 3,000 active duty and 1,100 Guard and Reserve, 3,400 civil service, 300 nonappropriated fund employees and 12,500 contractors. The base is home to the Air Force Nuclear Weapons Center and 377th Air Base Wing, Kirtland's host organization, which supports more than 100 mission partners.
Read More
Off-Base Neighborhoods
Military families have many options to live off base near Kirtland AFB. Because the base is right next to Albuquerque, some families prefer the excitement and activity in the downtown Albuquerque neighborhoods. Going further from the base gates, families recommend the neighborhoods of Four Hills to the East, or Enchanted Hills of Paradise Hills to the North of base.
On Base Housing
Hunt Military Communities manages the housing on base at Kirtland AFB. Most of the housing is in The Villages, with 2, 3, or 4-bedroom options, divided by rank and family size. These homes are newer and larger. The other neighborhood is Pershing Park, with older single-story duplex homes in 2, 3, or 4-bedroom layouts. On base housing has access to parks, playgrounds, walking areas, and sports courts.
Schools
There are two elementary schools on base: Wherry Elementary and Sandia Base Elementary. The rest of the students who reside on base attend school in the Albuquerque Public School District. There are many public and private schools serving students in all grade levels. Homeschooling is also an option for parents; call the New Mexico Public Education Department Home School Office for more details.
Cost of Living and BAH
BAH for Kirkland AFB is calculated by the main gate's zip code, which is in Albuquerque, NM 87123. Kirtland Air Force Base BAH varies depending on rank and whether or not you have dependents. To determine your BAH at Kirtland Air Force Base, use our BAH calculator.
BAH Calculator
Housing Costs
New Mexico has a low cost of living compared to most other states. So even though Kirtland AFB is right next to the city of Albuquerque, housing is still affordable. The median home cost is 203,500. The median price per square foot is $136. The median rent is $1,041 per month, so military families will be able to use BAH to rent or buy off base if they choose.
Weather
In Kirtland, the summers are hot and mostly clear, the winters are very cold and partly cloudy, and it is dry year round. Over the course of the year, the temperature typically varies from 20°F to 92°F and is rarely below 8°F or above 98°F.
Base Amenities
On the base, you will find walkable neighborhoods with easy access to picnic areas, trails, a fitness center, playgrounds, tot lots, sports courts, and a resort-style heated pool. Kirtland AFB also includes the typical amenities found on many military bases: BX/commissary, Gas stations, Dental Clinic, Auto Skills Center, Barber shop, Child Development Center, Medical Clinic, Family Center, Veterinary clinic, Fitness centers, KFH Lending Library, Golf course, Chapel.
Area Attractions
Local area attractions include:
Manzano Mesa Water Sprayground
Los Padillas Aquatic Center
Cliffs Amusement Park
Spring River Park and Zoo
ABQ BioPark Zoo
Wildlife West Nature Park
National Scouting Museum
Tinkertown Museum
Food and Drink
You're in the Southwest, where Mexican food is plentiful, authentic, and delicious. New Mexico blends typical Mexican foods with Native American flavors. Whether you like breakfast burritos, tortillas, carne adovada, sopapillas, or green chili sauce, your tastebuds are in for a shock in the Albuquerque area. Green chilies and red chilies are the heart of most New Mexico dishes.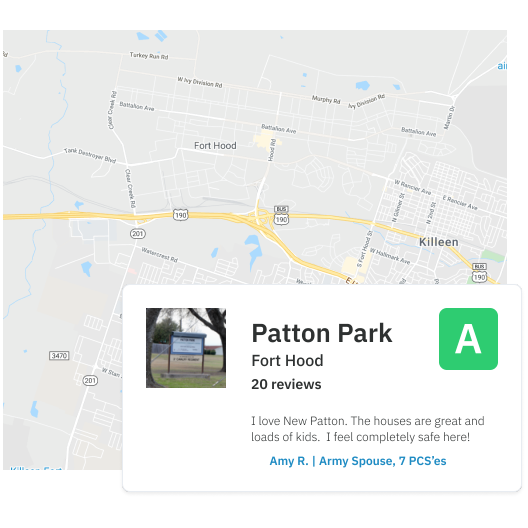 Research Your Area Before Your Move
Discover area guides and trusted reviews by and for the military and veteran community for local neighborhoods, base housing, moving companies, lenders, schools, and more.
Access Review