Keesler Air Force Base
Keesler Air Force Base, located on the Gulf Coast in Biloxi, Mississippi, is the home of the 81st Training Wing, which hosts the Second Air Force (2 AF) training, and the 403rd Wing (an Air Force Reserve command).
Keesler is one of the largest training centers in the Air Force, and is home to many schools, including the Mathies NCO (Noncommissioned Officer) Academy. The 81st Training Wing is the electronics, computer, and weather training center of the Air Force. The base also hosts the Keesler Medical Center, which serves active duty families in Southern Mississippi. This Joint Training Installation hosts 28,000 students annually, who come from the Air Force, Army, Navy, Marines, and Coast Guard--so be prepared to see a variety of uniforms!
Although the base is small in size, it hosts about 5,000 active duty and 2,700 contractors, making it the largest employer on the Mississippi Coast. The surrounding area is home to numerous veterans and retirees from all military branches. So you will soon be welcomed to a large, thriving, military-friendly community.
Read More
Off-Base Neighborhoods
Biloxi is the town just outside of Keesler's main gate and western Pass Road gate. It includes the waterfront hotels, casinos, and restaurants that host numerus tourists during the summer months. Some neighborhoods are historic and quiet, while others are close to the nightlife, so you will find a mixture of home styles and housing prices. Most of the city is on a coastal flood plain, so be prepared to evacuate during major hurricanes.
Ocean Springs is nine miles east of Keesler, across a long bridge, and is a very desirable area for family housing. With historic downtown streets, art galleries, and numerous restaurants and shopping options, you'll find most things you need in Ocean Springs.
D'Iberville is just 5 miles northeast of Keesler, across the narrow bay. It's a very affordable town with a more rural feel, so there are more opportunities to buy larger plots of land. However, lower property costs also make for lower-quality school systems, so research local public schools if you have children who will attend. Houses located north of the I-10 are not in the coastal flooding zone, which usually makes them less likely to have mandatory evacuations during hurricanes.
Gulfport is the major city 14 miles west of Keesler, also on the Gulf Coast. Although it is the 2nd-largest city in Mississippi, the tallest buildings are the casinos and one downtown office building. It is a low-income area that was hit hard by Hurricane Katrina, so some houses are newer construction while others are older and in need of repairs. Gulfport is the home of the Navy Seabee base: NCBC Gulfport. Families stationed at Keesler can request on-base housing at Gulfport, if they wish. The commute is about 30 minutes.
On Base Housing
Family housing on Keesler AFB is managed by Hunt. There are four housing neighborhoods on base, and one located off base in Vancleave.
Bayridge is on-base housing for officers and senior enlisted. The houses have 3 or 4-bedroom floor plans with a 2-car garage, and average over 2,170 square feet. It is walking or biking distance to the community swimming pool, the Event Center and golf course, and the nearby park and splash pad that overlooks Biloxi Bay.
East Falcon, West Falcon, and Thrower Park neighborhoods are all "base housing," but the neighborhoods are all located just off base, outside the base gates. They are essentially gated communities, and you will need your military ID card to enter through the automated gates. These are open to junior enlisted families. Most units are 3 or 4 bedrooms, and average 2,000 square feet. These units have a single-car garage, but include the same neighborhood amenities: the pool and splash pad, park, playgrounds, basketball courts, and dog parks. All housing includes central air conditioning and a patio area.
Sandhill Landing is military housing located 20 miles off base, just off the I-10 in the town of Vancleave. It's a quiet neighborhood with a pond next to the Mississippi Sandhill Crane National Wildlife Refuge. These housing units are smaller duplexes, averaging 1,495 square feet. But the 3 and 4-bedroom layouts do include a single-car garage, fenced-in yard, and air conditioning. The commute is about 30 minutes to the base.
Schools
There are no on-base schools for military children at Keesler AFB. If you live in base housing at Keesler, then your children can attend the nearby schools in the Biloxi Public Schools District. Grades K-4 will attend either Jefferson Davis (renamed Back Bay Elementary) or Popps Ferry. For grades 5-6, your student will attend Biloxi Upper. Biloxi Junior High is composed of grades 7-8. Biloxi High School includes grades 9-12.  
If you live off base, your children may attend schools in the Harrison County School District, the Gulfport School District, or the Jackson County Public School District, depending on your zip code. Most local schools begin the first week of August and continue on a traditional schedule until the end of May, with a summer vacation during June and July.
Of course, there are also private school options in the area, especially closer to Ocean Springs. And some military families choose to homeschool their children instead of attending local schools.
Cost of Living and BAH
The Gulf Coast of Mississippi has a very low cost of living, because wages are generally very low in this area. The local BAH rates are also low to match the affordability of the area. Keesler AFB BAH varies depending on rank and whether or not you have dependents. To determine your BAH at Keesler AFB, use our BAH calculator.
BAH Calculator
Housing Costs
Housing near Keesler AFB is generally affordable, although limited availability often drives up the rate for rentals. You may find it is more affordable to pay a mortgage than to pay monthly rent for a comparably-sized house. The average cost of housing in Biloxi is well below the national average. The median home cost is $168,600. A three-bedroom home costs around $1,182 per month to rent. You'll find that in general, homes in Gulfport and D'Iberville are less expensive than Biloxi, whereas in Ocean Springs the average home costs more than in Biloxi.
Weather
Weather on Mississippi's Gulf Coast can be surprising! Winters are generally mild, with some days of cold temperatures that linger just above freezing, while most days just require a jacket or sweatshirt to be outdoors. Spring can be either very cold or very warm, with intense thunderstorms and flooding from heavy rains. One thing that is always consistent: the summers are HOT! Temperatures from July through September are frequently in the 90's, and the muggy humidity makes it difficult to be outdoors in the afternoon. Fall can also be pleasantly mild, or have dangerous tropical storms and hurricanes.
Hurricanes are a real concern at Keesler AFB. Located less than a mile from the Gulf of Mexico, it is subject to flooding and wind damage during powerful storms. Hurricane Katrina was a Category 5 storm that hit this area directly in 2005, destroying many homes, schools, churches, and public buildings. Hurricane season lasts from August through October, so it's important to follow local news and weather alerts, and connect to the base websites to get the most up-to-date warnings. For severe storms, the base may issue mandatory evacuation orders, so always have a plan for evacuating out of a storm's path (usually inland or to the west.) Keep water, food, medicine, and emergency supplies stocked in your home in case of power outages.
Base Amenities
Keesler AFB is the largest military base on the Mississippi Gulf Coast, so it has resources and amenities that support military families, veterans, and retirees living in the surrounding area. The Keesler Medical Center is the major military health facility in the area. It is a teaching hospital hosted by the 81st Medical Group.
Families will appreciate the large, well-stocked Commissary, and the Exchange, which is like a small mall with a food court and numerous vendors inside. You can exercise at the Dragon Fitness Center, the Triangle Fitness Center (which has an outdoor pool), or the smaller Blake Fitness Center. Get outdoors and enjoy the beautiful golf course, which includes a walking track and a disc golf course. There's a marina and an MWR park on the northwest end of base, overlooking Biloxi Bay. Kids can enjoy the splash pad, and you can use the grills and picnic areas for gatherings. The Event Center (golf course clubhouse) hosts regular community events. Keesler also has typical base amenities like a bowling alley, movie theater, child care center, chapel, and Airman's Attic Thrift Store.
Area Attractions
Biloxi is not a large town, so depending where you are coming from, it may feel like a slower pace of life without many attractions in the local area. However, if you take the time to explore, you will discover many interesting things to do on the Gulf Coast. This area is considered the "playground" of Mississippi, so people come to Biloxi from the surrounding states to go on vacation and have fun. You have those same entertainment options in your backyard!
Mississippi Aquarium: Located on the coastal highway between Gulfport and Biloxi, this is a good-sized facility that is home to dolphins, penguins, sea turtles, otters, crocodiles, sharks, stingrays, and numerous fish. They live in 12 different habitat areas, and at different times of the day, you can witness feedings or chat with an animal ambassador. They offer a 10% military discount on tickets for all family members with military ID.
Gulf Islands Waterpark: Located on the I-10 just a few minutes from Keesler, this is a fun summer activity for the family. Spend the day on the rides, and slides, or in the lazy river. They do not have a military discount, but the USO usually hosts a free evening at the end of the summer for military families.
Lynn Meadows Discovery Center: If you have little ones, this is a great place for them to explore both indoors and outside. It's a hands-on learning center with areas for interactive play, including dress-ups, a grocery store, a train, and several science area. The fun indoor climbing structure goes up two stories at the center of the building. There are classes and activities designed for younger children. And the outdoor areas include fun treehouses and a creek to play in.
Ship Island: There are several barrier islands just a few miles off the coast, which are visible at the horizon on a clear day. Directly across from Biloxi is Ship Island, which has beaches with wide views of the Gulf, plus a Civil War era fort called Fort Massachusetts. The water is deep and clear, unlike the shallow water at Biloxi's beaches. Take a ferry from the Gulfport Yacht Harbor from March until October. The island does not have any shade, but it does have a small snack and picnic area near the Ranger Station.
Outdoor activities: Biloxi has 23 miles of man-made beaches along its coast, so this is a fun place to enjoy the sand and some water sports. The Gulf is extremely shallow here, and there are no waves because of the barrier islands, but wading, fishing, and jet skis are popular entertainment. Inland, you can enjoy hiking trails like the Tuxachanie Trail near the DeSoto National Forest. Fishing, shooting ranges, paintball, and mudding trails are all easy to find in the area.
New Orleans, Louisiana: "The Big Easy" is 90 miles, or just under 2 hours, to the west of Keesler. Some people come for the party atmosphere around Mardi Gras (which is usually in February), while others enjoy the cajun cooking or jazz music. You can visit the historic French Quarter, stroll the waterfront, ride a steamboat, and learn about the city's unique history. The World War II museum is in New Orleans, and is worth a full day's visit. There are also cooking classes, haunted tours, and swamp tours, depending on your taste for adventure!
Mobile, Alabama: The Alabama capital is 60 miles--just over an hour--east of Keesler. Many people spend a weekend here for the great dining opportunities and the big-city experience, which is not available in Mississippi. In Mobile, you can visit the USS Alabama battleship in the bay, or take a walk through the Maritime Museum, the Carnival Museum, a history museum, the Exploreum Science Center, or one of many mansions from the 1800's.
Food and Drink
You're in the South, so if you like comfort food or anything fried, you're in luck! You can get Gulf Coast shrimp at most local restaurants, either fried or grilled, and sometimes tossed in a spicy-sweet sauce. A po-boy is like a sub sandwich, typically with fried seafood served on a french bread roll. Order it "dressed" to include lettuce, tomato, and mayo. We are close enough to New Orleans to have some Cajun influence, so you can find good gumbo, jambalaya, alligator bites, and boudin balls (meatballs made with rice, cajun seasonings, and various meats) at many local restaurants.
There are several large BBQ and oyster restaurants along the Biloxi shoreline, and Muddy Waters BBQ in Ocean Springs is worth a visit if you enjoy smoked meats. For fancier meals, consider visiting the casinos for fine dining options or great buffets. Restaurants get much more crowded during spring break and in June when tourists are visiting for vacation, so anticipate extra wait times then.
In February, people buy King Cakes for Mardi Gras. This is a pastry ring, sometimes filled with a fruity filling, and usually covered in white icing and bright sprinkles. The colors purple, green, and yellow are used for Mardi Gras celebrations, so those are usually the colors of the king cake. A small plastic baby is inside the pastry, so whoever finds the baby in their piece is supposed to throw the next party!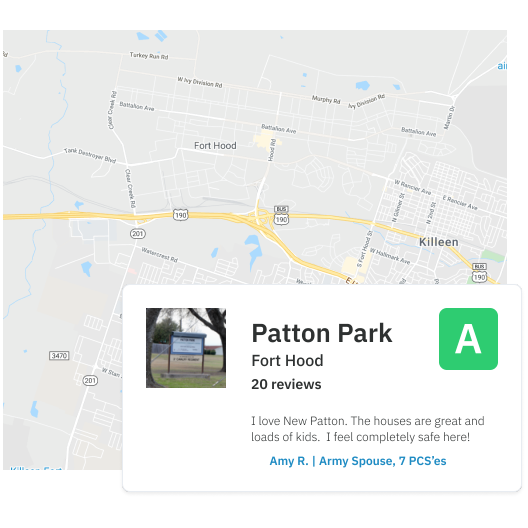 Research Your Area Before Your Move
Discover area guides and trusted reviews by and for the military and veteran community for local neighborhoods, base housing, moving companies, lenders, schools, and more.
Access Review