Eielson Air Force Base
Eielson AFB sits smack dab in the middle of the "Land of the Midnight Sun." Fairbanks, Alaska, just 26 miles north and west of Eielson, is Alaska's second largest city and is centrally located within the 49th state. It's been said the Fairbanks region of Alaska will awaken the spirit and nourish the soul. Eielson Air Force Base sits just southeast of Moose Creek, Alaska and is about a 25 minute car ride from Fairbanks. The base was established in the early 1940's and is currently home to the 354th Fighter Wing.
Additionally, the 354th Operations Group, the 354th Medical Group, the 354th Mission Support Group and the 354th Maintenance Group all call Eielson home. Airmen who are stationed on Eielson commonly refer to themselves as "Icemen" due to the frigid Alaskan weather. Their wing motto is: "Ready to go at fifty below!" An assignment to Eielson AFB, Fort Wainwright, or Fort Greely is considered an overseas tour. If your dependents want to accompany you to Alaska, your PCS orders must say "concurrent travel" and each family member's name must be listed on your orders.
Read More
Off-Base Neighborhoods
Living off base at Eielson AFB is not encouraged, because of the extremely high cost of utilities in Alaska. Sure, the houses are affordable, but the utility costs will eat up much of your BAH. If you do choose to rent or buy in the local area, be sure to research utility costs and include them in your housing budget.
On Base Housing
Living on base is recommended at Eielson AFB. Corvias owns the family housing and is responsible for maintaining, repairing, constructing and managing the community. There are a variety of floor plans available in single-family, duplex and multiplex homes.
Schools
There are three schools on base at Eielson AFB. Military children living in base housing will attend either Anderson Elementary (K-grade 2), Crawford Elementary (grades 3-6) or Ben Eielson Jr/Sr High (grades 7-12). These schools are all part of the Fairbanks North Star Borough School District.
Students living off base will attend the local public school in their area, unless they request to attend the schools on base. There is bus transportation available for anyone living more than 1.5 miles from an off-base public school. However, if you live off base and choose to attend a base school, parents must provide transportation.
Cost of Living and BAH
Eielson AFB BAH is somewhat high, to match the high cost of living in Alaska. It is ranked #15 in BAH rates of all Air Force bases. Eielson AFB BAH varies depending on rank and whether or not you have dependents. To determine your BAH at Eielson AFB, use our BAH calculator.
BAH Calculator
Housing Costs
While Alaska is one of the most expensive places to live in the U.S., the Fairbanks region has one of the lowest cost-of-living rates in the state. Overall, the cost of living in Fairbanks is 36 percent higher than the national average, partly due to the high cost of utilities. The cost of housing is also relatively high at 54 percent above the national average. The median home price in Fairbanks is $245,000. The median home price from outside the gates of Eielson AFB is slightly lower at $193,100.
Weather
Where do we start? It's Alaska! And yes, it's COLD! The average temperature in January is minus 3 degrees. You read that right, MINUS 3 DEGREES! And the thermometer can fall below minus 50 degrees on occasion! It's a long winter in the Fairbanks region lasting from October to April. From October through December, an average of 65 inches of snow falls. There isn't much of a spring to speak of. The summer months of June through August feature temperatures in the 60-70 degree range.
Base Amenities
The Commissary is open six days a week, closing on Mondays and holidays. The Base Exchange offers a great selection of merchandise, including clothing, shoes, personal care items, housewares, hardware, sporting goods, cameras, electronics, computer software, and books. There is also a barber, hair salon, alterations, floral, and optical shops all located within the shopping center mall area, along with a food court.
Area Attractions
Outdoor life is front and center in Alaska. On any given day you can enjoy the view of the Aurora lights and a friendly visit from the neighborhood moose! Additionally, there is plenty of hunting, fishing, camping, and winter sports available that you won't get anywhere else! Enjoy hockey games in the winter, and camping and berry picking in the summer.
If you crave sunlight, you won't see a lot of it during the winter months. The sun goes down to as little as 3-4 hours of sunlight a day, culminating in the shortest day of the year on December 21, the winter solstice. Also, during the holiday season, everyone leaves their Christmas lights on around the clock, making it truly a Winter Wonderland. Seventeen minutes of sunlight per day is gained until there is sunshine around the clock on June 21st, the summer solstice. NORTH POLE, ALASKA: Experience Christmas year-round at the tiny town known as the North Pole. The Santa Clause House and Santa's Zip Code Post Office are two popular attractions. The Cruising with Santa Car Show is a big draw during the summer months. Kids of all ages can play in the new musical playground, role thru the skate or BMX park, or enjoy the exercise trail near City Hall. The North Pole is where the spirit of Christmas lives year-round.
AURORA BOREALIS LODGE: View the northern lights in style and comfort! Located 21 miles north of Fairbanks, the Aurora Borealis Lodge is ideally situated for 360 degree viewing & photography. Additionally, from late August through early April, they offer nightly aurora tours with round-trip transfers from Fairbanks.
RIVERBOAT DISCOVERY: Enjoy a relaxing, entertaining boat cruise of the Chena and Tanana Rivers, including a guided walking tour of the Chena Indian Village. See Susan Butcher's champion dogs, the wedding of the rivers, and Dixie Alexander's Athabascan art.
FAIRBANKS CHILDREN'S MUSEUM: The museum offers interactive exhibits designed for young people and activities such as role-playing, science, art and crafts, building, physical movement, and also water play. These events are specifically designed to create a playful learning environment.
FAIRBANKS CURLING CLUB: They like to say "100 Years & Still Rockin'". This is the oldest club devoted to any sport in Alaska.
LED DOG ADVENTURES IN FAIRBANKS: You can participate in exciting dogsled rides, attend mushing school, and take a tour with an Alaskan guide. Arctic gear is supplied.
CHENA HOT SPRINGS RESORT: Experience the natural healing waters of the 105-degree outdoor hot springs rock lake with the northern lights dancing above your head. Families can enjoy the indoor swimming pool and hot tubs. No other place in Alaska offers both, and they are open year-round.
Food and Drink
Fairbanks has good restaurants, along with two craft breweries, four distilleries, and several coffee roasters. Enjoy local food like reindeer sausage or fresh Alaskan seafood like salmon, halibut, or king crab.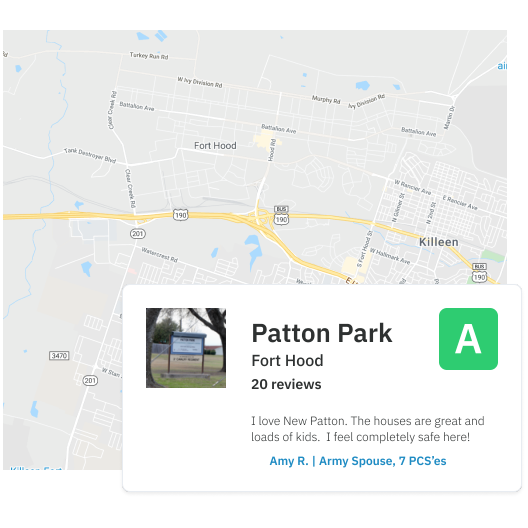 Research Your Area Before Your Move
Discover area guides and trusted reviews by and for the military and veteran community for local neighborhoods, base housing, moving companies, lenders, schools, and more.
Access Review