Beale Air Force Base
Beale Air Force Base is home to the 9th Reconnaissance Wing and over 3,000 personnel. Located outside of Linda, California -- about 10 miles east of Marysville and Yuba City and 40 miles north of Sacramento, it's quite the rural installation.
While stationed at Beale AFB, you can find the desert, beach, and mountains all within a day's drive. The base is huge, with lots of green space and wildlife -- you may even see cows grazing around base throughout the year.
Families stationed here love the community and say there are opportunities for everyone to get involved and develop life-long friendships.
Read More
Off-Base Neighborhoods
Beale AFB is in a rural area, but within 15 minutes outside of the base there are some neighborhoods with nice housing. Because of the higher cost of living and schools, most people prefer to live on base. As you extend out from the base, there are housing options in Lincoln, Roseville, Marysville, and Yuba City -- though they are not all equal in their amenities and affordability.
On Base Housing
Beale AFB housing is managed by Balfour Beatty and is on the newer side, as compared to many installations. The community has five neighborhoods of spacious homes and they are pet-friendly.
The housing is located farther away from the rest of the base, which may make it difficult for one-car families. The neighborhoods have a dog park, community garden, picnic areas, sand volleyball, splash pad, playgrounds, basketball courts, and a community center. Residents believe living on base is a bonus when stationed at such a remote installation.
Schools
There are two elementary schools on Beale AFB: Lone Tree Elementary School and Wheatland Charter School, both part of the Wheatland School District. Lone Tree serves those in grades kindergarten through fifth grade.
Some of the children who live off base also attend these schools. These two schools are close to base housing, only about a half-mile away. They are also within walking distance to the youth center and child development center. For older school-aged children who live on base, they are zoned for Bear River Middle School and Wheatland High School.
Cost of Living and BAH
The cost of living in California -- and in the area around Beale AFB -- is above the national average. Accordingly, Beale Air Force Base BAH is higher than most Air Force installations in the United States.
Beale AFB BAH varies depending on rank and whether or not you have dependents. To determine your BAH at Beale AFB, use our BAH calculator.
BAH Calculator
Housing Costs
The median sales price home in Marysville is $375,000, at about $259 per square foot. Families may also choose to live in nearby Linda, where the median home lists for $399,000 at $261 per square foot. Housing can be very expensive here, and affordable rentals can be difficult to find.
Weather
If you're looking for all four seasons, you're not going to find them at Beale AFB. It's very warm most of the year, but you'll still need a winter jacket for the cooler nights. There are two distinctive seasons: wet and dry. The rains usually come in late fall, typically around November. The summers are hot and dry, so dry that wildland fires are not out of the ordinary, and summer months mean keeping a careful eye on them.
Base Amenities
Community is very important at Beale AFB, and organizations like those available at the chapel and the Spouses' Club are a great place to start. The Omni Fitness Center is also a place where residents can find community. The gym also has a parent-child area for working out while watching your kids. For those who prefer trail running or hiking, there are several options on base -- just keep an eye out for snakes.
The commissary is open six days a week and offers Click2Go services. Beale AFB also has a thrift shop, movie theater, library, and arts and craft center.
Area Attractions
Beale AFB is rather secluded, but within a few hours you can be in San Francisco or Lake Tahoe, which makes for an excellent weekend or long weekend trip. San Francisco offers minor league baseball, a zoo, and many other attractions. The redwood forest is also nearby for camping and hiking.
Seasonal attractions include apple picking at Apple Hill, and fall activities at Bishop's Pumpkin Farm which is open with food and fun for about six weeks each fall. Roseville is about 40 miles away from the base and has a nice mall, golfing, and the California State Railroad Museum.
Food and Drink
There are many options for eating on base, including Runway Pizzeria, The Wing Spot, and Hefty Gyros. In Yuba City there are a few options as well, ranging from Mongolian BBQ, to Italian, to steak.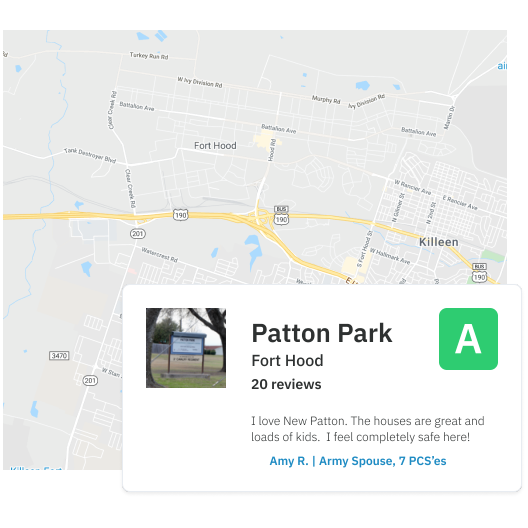 Research Your Area Before Your Move
Discover area guides and trusted reviews by and for the military and veteran community for local neighborhoods, base housing, moving companies, lenders, schools, and more.
Access Review