Anacostia-Bolling Air Force Base (Joint Base Anacostia-Bolling)
Located on the Eastern side of the Potomic River in South East D.C., Joint Base Anacosta-Bolling is at the heart of the nation's capitol. Whether you live on or off base, you will have excellent access to all the history and culture of Washington, D.C. while you are stationed here! You will also become too familiar with D.C. traffic.
Joint Base Anacostia-Bolling includes Bolling Air Force Base and Naval Support Facility (NSF) Anacostia. The two bases once operated separately, but were combined in 2005 and are maintained by the Air Force. Once a functioning airstrip for fixed-wing aircraft, Bolling now primarily focuses on ceremonial support for the Capitol region. It is home to The Chief's Own (11th Wing), the USAF Honor Guard and the USAF Band.
The Joint Base is also home to the Defense Intelligence Agency Headquarters, the Commander of Naval Installations, the DoD Inspector General, and the White House Communications Agency. Joint Base Anacostia-Bolling also hosts Marine Helicopter Squadron One (which supports presidential transport through Marine One), a Marine Forces Reserve Center, and the Coast Guard Station, Washington, D.C.
Read More
Off-Base Neighborhoods
Due to long waitlists for limited base housing, most families stationed here rent or buy a home in the surrounding area. Northern Virginia is a popular area to find single-family homes, good school districts, and a convenient commute to D.C. But get ready for sticker shock as the D.C. suburbs feature seven of the country's ten richest counties. Single-family homes, townhouses, condos, and apartments can be found in both urban and rural settings a short distance.
On the Maryland side, the neighborhoods "inside the Beltway" (I-495) are notoriously cramped and suffer from high crime rates. Outside the Beltway, in Prince George's County, Maryland, there are much larger homes and higher quality school systems... which of course come with a higher price tag. Northern Virginia (NOVA) includes the following counties:
Fairfax County, Virginia is the largest county in the Washington, D.C. area. It falls inside and outside the beltway and is home to George Mason University. Arlington and the city of Alexandria, Virginia are inside the beltway.

Prince William County, Virginia includes Woodbridge, Dumfries, Haymarket, Occoquan, Lake Ridge, Manassas, and Manassas City.

Loudoun County, Virginia includes Sterling, Ashburn, Potomac Falls, Countryside, Middleburg, South Riding, Hamilton, and Dulles International Airport.
On Base Housing
Joint Base Anacostia-Bolling does have housing on base.
The Navy controls housing waitlists and paperwork, but the properties are privately managed by Hunt Military Communities. There are over 800 homes on base in seven different neighborhoods, separated by rank and family size.
On-base homes include central AC (which is essential during muggy D.C. summers!) and allow up to two pets. Most neighborhoods include playgrounds, parks, bike paths, and outdoor sport courts.
Schools
There are no schools located on base, so residents of base housing are zoned to local District of Columbia Public Schools. Military families can attend Leckie Elementary School, Hart Middle School, and Ballou High School. As of 2010, Leckie had about 33% of its students from military families. 
Of course, military families can also choose to attend private or charter schools in the Washington. D.C. or Maryland area. There are numerous quality schools to choose from in this region.
Cost of Living and BAH
Your BAH is probably higher than your last duty station, but your cost of living will be higher also. Washington D.C. and Northern Virginia both have an expensive housing market. Joint Base Anacostia-Bolling BAH varies depending on rank and whether or not you have dependents. To determine your BAH at Joint Base Anacostia-Bolling, use our BAH calculator.
BAH Calculator
Housing Costs
Sticker shock is common for those PCSing to the National Capital Region. The average sales price for a 3-bedroom house in Fairfax County was $512,500; this is up nearly 4% from the previous year. The housing market in Northern Virginia is currently hugely competitive, and it's common for sellers to receive multiple bids. Prince George's County, Maryland is slightly more affordable with an average home price of $355,284.
Weather
There are four distinct seasons in the mid-Atlantic region to include Washington D.C. and the surrounding areas.
Winters are relatively mild, with an average snowfall of 15.4 inches, most of it falling in January and February.
Springtime features the blooming of the cherry blossoms along the Tidal Basin. People come from all over the world to view these delicate flowering trees which only bloom for a couple of weeks during the year.
Summers can be as steamy as the politics, with temperatures rising above 100 on some days in July and August.
The mild temps tend to stick around in September and October, and by Halloween, the fall foliage is in its full splendor with the vivid colors of autumn.
Base Amenities
Joint Base Anacostia-Bolling has a Commissary and Exchange, a bowling alley, swimming pool, splash pad, a fitness center, and other typical base facilities like sports courts and dog parks. There is also a nice Riverside park with walking trails along the Potomac.
Additional amenities are available at other nearby military bases from the D.C. region, including the Pentagon, Fort Belvoir, Fort Myers, and Andrews AFB.
Area Attractions
You do not have to go far to enjoy the area attractions in and around Washington D.C. Our Nation's Capital is home to the White House, the Lincoln Memorial, the Washington Monument and the National Air & Space Museum. The Pentagon 9/11 memorial in northern Virginia is not to be missed. It is usually one of the first stops for military families when they arrive on orders. DAY TRIPS:
Annapolis, Maryland: 32 miles; 1-hour drive – Gorgeous town, quaint restaurants and the Naval Academy!
St. Michael's, Maryland: 79 miles; 1.5-hour drive – Maryland's Eastern Shore features crabs and scenic water views like no other!
Richmond, Virginia: 108 miles; 2-hour drive – Virginia State Capital with a thriving restaurant scene and craft beer breweries.
Lewes/Rehoboth Beach, Delaware: 121 miles; 2.5-hour drive – What can we say? It's the beach! Bring your lotion and your bathing suit and enjoy!
Shenandoah National Park & Luray Caverns, Virginia : 3 hour drive; 120 miles – Located in the Blue Ridge Mountains, west of Washington, D.C. Skyline Drive is the only public road running through the Shenandoah National Park. Nearby Luray Caverns is the largest series of caverns in the east. This eerie underground world of stalactites and stalagmites is worth a day trip from NOVA.
Gettysburg (84 miles), Hershey (130 miles), Lancaster (120 Miles) Pennsylvania: Three unique Pennsylvania cities within 3 hours of the metro area – Relive the Civil War in Gettysburg, learn the unique story of Milton Hersey, and immerse yourself in the life of the Amish in Lancaster, PA.
Chincoteague Island, Virginia: 170 miles; 3.5-hour drive – Do not miss watching the ponies at the Chincoteague National Wildlife Refuge on the quieter side of the Eastern Shore.
Have a toddler or preschooler? Make sure to check out the local chapter of Tiny Troops Soccer to help your little one PCS with fun, soccer, and friends!
Food and Drink
You're in Washington D.C., so you can find every type of cuisine here! Whether you are looking for an exotic ethnic restaurant (there is one from almost every country, it seems), or your favorite steakhouse or sushi, there is something in the nation's capital to please any palette. In Northern Virginia, you can also find large quantities of wonderful restaurants, including most of your favorite chains.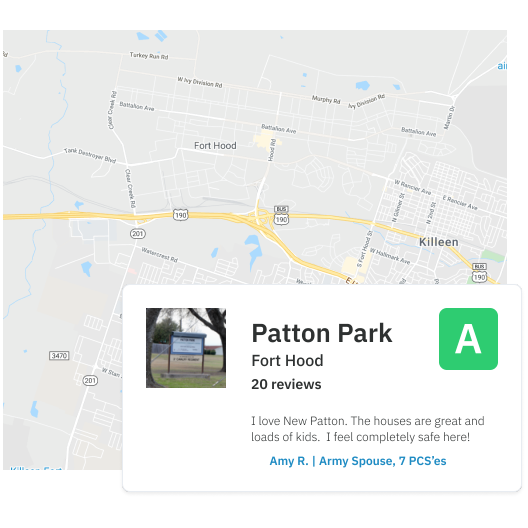 Research Your Area Before Your Move
Discover area guides and trusted reviews by and for the military and veteran community for local neighborhoods, base housing, moving companies, lenders, schools, and more.
Access Review