Fort Rucker
Fort Rucker, Alabama was established during World War II as "Camp Rucker" and was inactive for a few years between World War II and the Korean War. It's the home of Army Aviation, with the Aviaion Branch headquarters and the U.S. Army Aviation Museum also here. Fort Rucker is home to the 1st, 110th, and 128th Aviation Brigades. Most of the main area of the post is in Dale County. The closest towns are Enterprise, Daleville, and Ozark, with Dothan about 30-minutes away.
Read More
Off-Base Neighborhoods
The nearby towns of Enterprise, New Brockton, Newton, Daleville, Ozark, and even Dothan are options for families who want to live off base. Enterprise is a popular choice, due to the highly-rated schools. For families looking for a bigger piece of property or farmland, New Brockton is a great place. Right outside of the gate in Enterprise are some new apartment buildings, and more single-family homes are being built in the area.
On Base Housing
Corvias manages military housing on Fort Rucker, and offers three neighborhoods. Most of the housing is older, but Corvias is working to update the neighborhoods and did this in Munson Heights in 2018. The duplexes are brand-new with new appliances, tankless water heaters, and hardwood floors. The neighborhoods are open to both flight students and permanent party. There are walking trails, playgrounds, community centers with game rooms, and pools available as well. 
Schools
Fort Rucker has one Department of Defense elementary school for families who live on base. Ellis D. Parker is a nice, new school serving students in kindergarten through sixth grade. For those living on base and attending middle school or high school, families can choose between Daleville, Enterprise, or Ozark City Schools. Transportation is available to each of the schools. All the high schools use block scheduling. Enterprise High School has one of the largest JROTC programs in the area and in general, Enterprise City Schools are rated among the top in the state of Alabama.
Cost of Living and BAH
The cost of living in Alabama -- and Fort Rucker -- is below the national average, making things a bit more affordable for those stationed here. Fort Rucker BAH is lower than most installations and may come as a surprise for those moving from a higher cost-of-living area.  
Fort Rucker BAH ranges from $903 to $1,755 for enlisted. Warrant Officers stationed at Fort Rucker receive BAH ranging from $1,074 to $1,887. BAH at Fort Rucker begins at $1,152 for O1 without dependents and goes up to $2,118 for O7 with dependents.
BAH Calculator
Housing Costs
The median sales price home in Enterprise is $199,000, at about $110 per square foot. Dothan is very similar, at $107 per square foot.
Weather
Fort Rucker is truly in the south, and that means it's hot and humid most of the year. The winter months can get cold on occasion, but snow is not normal. Living in Alabama gives you a taste of all the types of weather. Tornadoes and hurricanes are both possible here, but residents say that the installation does an excellent job of relaying weather news to those on base. The bottom line, the weather is hot and humid, and the severe weather can be unpredictable, so it's best to be prepared.
Base Amenities
Fort Rucker's medical facility is the Lyster Army Health Clinic. Like many military installations, this on-post clinic does not have emergency services, nor labor and delivery. But there are two hospitals off base that offer emergency services--one in Enterprise and one in Dothan. 
The commissary is new, and the Exchange is being updated and now includes a Starbucks and Qdoba. Many families prefer to go to a local store off base during the construction phases, to find everything they need in one place. 
Fort Rucker has two gyms on base. Fortenberry-Colton is a bit smaller, but offers more classes and a rock-climbing wall. The Fort Rucker Fitness Center is the main gym and has a pool as well as an outdoor track. There are also some outdoor fitness options including the Beaver Lake Trail that you can hike with your dogs.
Area Attractions
While Fort Rucker has a small-town feel, there are many things to do in the immediate area and there are some great options for day trips.
Downtown Enterprise has an art studio, and the Black Cat Bakery offers classes. The VIP Star-Lite Drive-In Theater is about ten minutes off base.
If you're interested in outdoor activities, there is plenty of fishing, kayaking, and boating available on Lake Tholocco on Fort Rucker. The base also has trails to hike, and the Army Aviation Museum is a great place to visit when you have guests.
If you're up for a drive, you can be on the beach in Pensacola, Destin, or Panama City in about two hours. Jacksonville and Orlando are within a day's drive, as well as Savannah, Atlanta, Birmingham, and New Orleans. Fort Rucker is quite convenient to a lot of great places to explore.
Food and Drink
Local food is Southern, featuring comfort foods like chicken fried steak, cornbread, fried chicken, and collard greens.
Enterprise hosts events around the holidays with vendors and food. Some great restaurants for special occasions are The Rawls or Corks & Cattle. Bama Slam is another great option for a day or night out. They have food, drinks, ATV trails, and live music.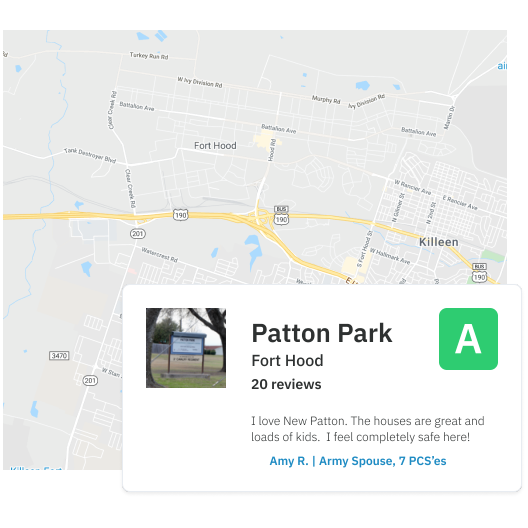 Research Your Area Before Your Move
Discover area guides and trusted reviews by and for the military and veteran community for local neighborhoods, base housing, moving companies, lenders, schools, and more.
Access Review