Fort Polk (Joint Readiness Training Center)
Fort Polk is located in a very rural part of Louisiana (Vernon Parish) in Leesville. The base is a little over an hour from Alexandria and Lake Charles, LA; three hours from Houston, TX and Baton Rouge, LA; and four hours from New Orleans.
This installation has been a hub of training military personnel in combat simulation exercises for 80 years. The city really grew up around the post rather than the post being installed near a city. While it is often hard to find a shop you prefer, Alexandria and Lake Charles have most stores you could want.
While Fort Polk and Joint Readiness Training Center (JRTC) are located within one very large installation, the roles of the service members serving there are distinct and unique. Fort Polk is a traditional Army post. JRTC is a training center, so the schedule of those serving there relies upon training rotations of other units from around the globe.
Read More
Off-Base Neighborhoods
There are a few neighborhoods in the Leesville/New Llano area that offer nice, newer single-family homes. (New Llano is the next town and where the Walmart Supercenter is located.) Most people choosing to live off the installation choose DeRidder, which is the next town over and about 20-30 minutes commute on average. Many families also choose to live in Alexandria, but from that location the service member will commute 45 minutes up to an hour one-way on days that they work.
On Base Housing
The on-post neighborhoods offer a VERY large variety of floor plans. If you choose to live on-post, make sure to carefully look over the floor plans that are available to you so you don't miss out. Also, if you cannot be there, try to have someone look at the house for you before you accept. Corvias is the privatized company that runs on-post housing at Fort Polk. Many of the houses are older, and carpet is not always replaced. There are some neighborhoods on base that offer BAH savings rates, but those come with some concessions. It varies by availability, so this is not always the case. Sometimes there are opportunities to get a house that is larger than you qualify for (for example a four-bedroom for a family of three that would usually get a three-bedroom). Again, those come with concessions such as older homes and more maintenance. Installation housing is also open to veterans and retirees as well as civilian employees, so you will see a large variety of neighbors.
Schools
There are two elementary schools on post run by the public Vernon Parish School District. One is for Pre-K and Kindergarten only. Children living on or off post may attend the on-post schools or choose off-post schools in Vernon Parish or Beauregard Parish districts. Bus transportation is provided. There is an elementary (K-5) school one mile outside of Gate 5 and another about 15-20 minutes out of Gate 1. The middle schools/junior highs are Leesville Junior High and Vernon Middle School. Local high schools are Richard Milburn, Pickering High, and Leesville High in New Llano.
The School Liaison Officer can give you greater insight to the local school system, and help you choose a location that is a good fit for your child.
Cost of Living and BAH
This rural region of Louisiana has a very low cost of living, compared to many other military bases. Expect to see a drop in your BAH when you move to Fort Polk. Enlisted BAH for Fort Polk begins at $699 and goes up to $1,431. Fort Polk BAH for officers ranges from $771 to $1,686.
BAH Calculator
Housing Costs
This is a very affordable area with a low cost of living. Your BAH will be low, but with local home prices well below the national average, service members can afford to rent or buy. Average rent for a 3-bedroom apartment near Fort Polk is $1,152. The average home price in Fort Polk South is just $78,000. However, keep in mind that this is for the town immediately outside of the base, which is not where most families choose to live. The average home cost in the next town, DeRidder, is $121,300. The median listing price for homes in DeRidder is $158,000.
Weather
While the leaves do change color in the fall, Louisiana is still in the South. Fall and winter are usually not too cold, but there are days in the 30's or 40's. The spring is warmer and summer is HOT and humid-- as in 100 degrees, sometimes more, and over 80% humidity. Be mindful of the heat index and the "real feel" on weather apps. June to November is Hurricane Season and this is not to be taken lightly. Fort Polk is only 1-2 hours inland from the Gulf of Mexico and, therefore, quite often gets hit hard by hurricanes and tropical storms. Rain gear and emergency preparedness kits are highly recommended. Learn your evacuation routes. Many families have back-up generators because power is frequently lost during hurricane season storms.
Base Amenities
There are several gyms on-post, one with an indoor running track. There is an outdoor 25-meter lap pool open year-round. Like most bases, Fort Polk has a commissary, exchange, bowling alley, movie theater, and shoppette on post. There is an Army Community Hospital for medical appointments. There are public swimming pools in every neighborhood as well as a splash park near the commissary to keep cool in the summer months. Fort Polk is one of four "Quality of Life" installations in the US Army. This means that ICE comments are reviewed personally by the JRTC and Fort Polk Garrison Commander, and he takes action on the information he receives.
Area Attractions
There is not a lot to do in the local community. There is a movie theatre on-post as well as off. There are many fairs and festivals throughout the region, as well as rodeos. New Orleans hosts Mardi Gras annually on Fat Tuesday (which is 47 days before Easter Sunday).
In the summer, there are festivals to be found all over the state, as well as in many nearby Texas locations. There is an annual Renaissance Festival in Hammond, LA. There are MWR cabins at Toledo Bend Lake, about an hour away, and it is gorgeous. You can get a boating license there as well.
Food and Drink
Louisiana is famous for Cajun food like gumbo and jambalaya, but those are more popular closer to New Orleans. A po'boy is a sub sandwich, typically made with fried seafood on white French bread. If you get it "dressed and pressed," it includes lettuce, tomato, and mayonaise. In Leesville, you can find some of these traditional dishes at Toupes' Kajun Kitchen, Taste of New Orleans, or Peaux Peaux's Crawfish.
On base, the Hickory Smoke House has good BBQ. There are several fast food restaurants and cafes in the areas just off base. It's easy to find pizza, burgers, or Mexican food, but you may want to venture further if you are looking for a date night location.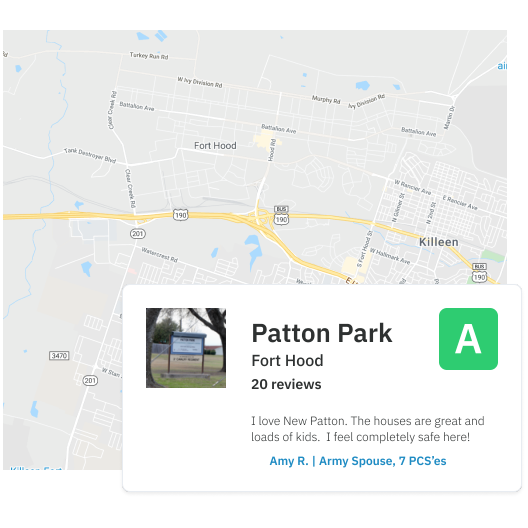 Research Your Area Before Your Move
Discover area guides and trusted reviews by and for the military and veteran community for local neighborhoods, base housing, moving companies, lenders, schools, and more.
Access Review