Fort Lee
Fort Lee is located in the southside of the Richmond Metro area in Prince George County, which is rural. It is right beside the (small) cities of Colonial Heights and Petersburg and the town of Hopewell. Fort Lee is close to I-95 and the major thoroughfares of the Metro area, so it about 20-40 minutes to the capital of Richmond.
Read More
Off Base Neighborhoods
Fort Lee is unique--depending on the gate you use, you will find yourself in a different city or county: the cities of Hopewell, Colonial Heights, Petersburg, and the Counties of Prince George, Chesterfield, and Dinwiddie all surround the base. The Richmond metro area is 20-40 minutes away and offers a much greater variety of restaurants and shopping. If more diverse shopping and restaurants suit your needs, then it may be best to live in those suburban areas of Richmond, versus living on base. There are also strong schools in the Richmond suburban areas.
On Base Housing
On-post housing is a mixture of old and new and it is comparable with most stateside on-base housing units. Hunt Military Communities manages 7 different neighborhoods on post, most with 3 and 4 bedroom layouts. There are some 2-bedroom units and 5-bedroom houses also available. Many of the homes were built in 2008-2009. Most neighborhoods include playgrounds and sports courts, and eligibility is based on the service member's rank and family size.
Schools
There are no schools on Fort Lee, so military children living on post will attend the nearby Prince George County Public Schools. Families living off base will attend the school district for which they are zoned: either Chesterfield County, Colonial Heights, Hopewell City, Dinwiddie County, or Petersburg City. It is important to research the local school districts before making a decision to rent or buy since Virginia does not typically allow students to attend schools outside of their district. You will find higher quality schools closer to Richmond, so many families choose to live near the quality schools and let the service member have a slightly longer commute.
Cost of Living and BAH
Fort Lee BAH rates reflect the moderate cost of living in this rural area. You will find that home prices are much lower than in Northern Virginia. In fact, Fort Lee BAH rates were lowered in 2019. Now, enlisted BAH for Fort Lee with dependents ranges from $1,377 to $1,767. Officer BAH with dependents is from $1,334 to $2,157.
BAH Calculator
Housing Costs
The average one-bedroom apartment will cost in the neighborhood of $1100 and 2-bedroom about $1200 and up per month excluding utilities. The average rental home is $1300.
You can find houses from the 1700's to new constructions in this historic part of Virginia. If the home is in good shape and priced under $300K, it is going fast. Most VA buyers are asking for all of their closing costs to be paid; a good listing agent educates their seller on that.
Rentals are tough to find, especially ones that accept pets. The rental prices often exceed what someone would pay in a mortgage. Rentals are also low in inventory for single-family homes.
Weather
Virginia has all four seasons... just not always in the right order! Springtime brings thunderstorms that produce gusty winds, hail, and occasionally, tornadoes. Temperatures rise to an average 57.5 degrees during March, April, and May. Summers are often described as hot and humid while the fall brings welcome relief with temps in the mid 60's. Snowfall over the winter months averages 7.1 inches each year with the average temperature in the mid-forties.
Base Amenities
Fort Lee has a Commissary and PX located near the housing areas. The base also includes a bowling alley, playgrounds, pool, track field, gym, lots of exercise classes, and the Theater Company at Fort Lee.
Area Attractions
Historic Williamsburg is only about 45 minutes away. This is an incredible town where you can experience life from the 1700's. There are numerous shops, activities, and hands-on events, and the town's "population" all dresses in period attire.
Kings Dominion and Bush Gardens amusement parks are popular for anyone who loves roller coaster, rides, and shows. You can get military discount passes to Busch Gardens through the Waves of Honor program.
History abounds in this part of Virginia. Fort Lee is a short distance from Jamestown, Civil War battlefields, the Richmond Virginia State Capitol, Virginia Museum of Fine Arts, and many restaurants for every taste.
Fort Lee feels like you are far from everything, but you really have it all available in a day trip. You will be two hours from the beach, two hours from the mountains, and two hours from Washington, DC.
Food and Drink
You are close enough to Richmond that you can enjoy a variety of dining experiences and find your favorite chain restaurants. If you're looking for local specialties, barbecue in Virginia is mostly pork with a vinegar-based sauce which is similar to barbeque in North Carolina. Smithfield ham, sometimes called Virginia ham, is a type of country ham which is only produced in the town of Smithfield. There are over 230 wineries in the state of Virginia including several wineries on the Lower Peninsula.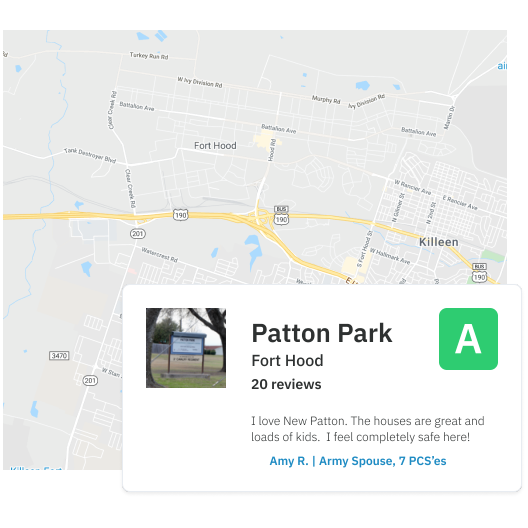 Research your area before your move
Discover area guides and trusted reviews by and for the military and veteran community for local neighborhoods, base housing, moving companies, lenders, schools, and more.
Join for free
PCSgrades and Realogy Military Rewards
For over 30 years Realogy's nationwide network of A-Team agents has served the military and veteran community with 95% of their customers, just like you, recommending their agent and the program. PCSgrades is proud to offer Realogy Military Rewards.
Get Started