Fort Gordon
Fort Gordon covers about 55,596 acres, or 87 square miles. It is located just a few miles southwest of the city of Augusta, Georgia in Richmond County. More than 16,000 military service members and about 9,000 civilian personnel work at Fort Gordon, with about 4,000 Family members living on post.
The south has some interesting quirks that you'll want to know before you arrive. Don't be surprised when you hear a lot of "sir" and "ma'am" even when not on the installation. Southern charm is actually charming, y'all! Also, you need to establish where you stand on college football. If you're living in Augusta, the correct answer is Georgia Bulldogs.
Read More
Off-Base Neighborhoods
With only 1,000 houses on post (and the number expected to decrease) most people live off post. Fort Gordon sits in Richmond County, but neighboring Columbia County is the preferred location for most families.
On Base Housing
Balfour Beatty manages the on-post housing at Fort Gordon. There are single-family and townhome style houses with 2, 3, 4, or 5-bedroom layouts. There are 6 different housing neighborhoods on post, and neighborhood eligibility is determined by the service member's rank. Most on post neighborhoods at Fort Gordon include amenities like playgrounds, fitness centers, dog parks, and basketball or tennis courts. They have some nice neighborhoods on post with newer construction, and some that have been there for a long time. With only 1,000 houses on post (and the number expected to decrease) most people live off post.
Schools
Columbia County schools are superior to Richmond County, and this is the main draw. You'll find military families in Grovetown, Evans, Martinez (pronounced Martin-ehz), and Harlem. For those that don't have to worry about schools, downtown Augusta, Hepzibah (hep-si-baa), or even right outside the gate in new Sims Landing are affordable options.
There is one elementary school on post at Fort Gordon, Freedom Park, which serves K-8 and is operated by Richmond County. High school students living on post are zoned for ARC, also in Richmond County.
Cost of Living and BAH
Fort Gordon BAH is moderate, which matches the relatively low cost of living in the area. As with many impoverished states, you will find that the cost of renting is often higher than the cost of a mortgage. However, whether you decide to rent or buy near Fort Gordon, you will find a variety of housing options.
Fort Gordon BAH ranges from $1,155 to $1,740 for enlisted. BAH at Fort Gordon begins at $1,407 for O1 without dependents and goes up to $2,100 for O7 with dependents.
BAH Calculator
Housing Costs
You'll hear military families talk about buying being cheaper than renting, and it may be true, but for those wanting to rent, you'll have no problem finding rentals. Around Augusta, Georgia, (east of base) the average home price has risen more than 4% this year. In Columbia County, (north and west of the base) the median sales price of a home is $259,000 and the average price per square foot is $132. This makes Fort Gordon an attractive place for military families to buy a home. When you move, you can either sell your home if the market is right, or rent it to another family. With the ever-changing population at the nearby base, there are always new military families looking to rent or buy near Fort Gordon.
Weather
It's hot in Georgia in the summer. Hot and humid. I've heard many people say, "If you aren't in the pool or the lake, summer is miserable." The good news is most neighborhoods off the installation have a pool, and there is both a splash pad and pool on base as well. As far as lakes and water activities, Boardman Lake is on post. Points West is a military-operated lakeside retreat with rentals and cabins. There are a few state parks nearby with lakes, and you could always kayak down the Savannah River.
It can be cold here too, and when it is, the locals remind themselves that cold weather in the winter means fewer bugs in the summer. Overall, the weather is nice here. Spring and Fall are a great time of year to be outside, and there is plenty to do outside in the CSRA.
Base Amenities
There is one commissary (closed on Mondays) and one Exchange located on post. Fort Gordon boasts a 93-bed hospital with an Emergency Room. Dwight D. Eisenhower Army Medical Center used to be the headquarters of the Army's Southeast Regional Medical Command. MWR offers camping and horseback riding. Fort Gordon hosts a bowling alley and several restaurants and fast-food places to grab a meal.
Area Attractions
"Augusta is in the middle of nowhere, and two hours from everywhere," a friend told us when we first arrived. He's right, within just a few hours you can see a lot of the local region.
COLUMBIA – 90 MINUTES: Columbia, South Carolina is a great day-trip location. The Riverbanks Zoo is there, which is the zoo Augusta natives recommend the most. There is also an EdVenture Museum for kids, the State House, and several parks. If you're into history, there are plenty of historical homes to visit as well. Take a little time to enjoy a great cup of coffee at Drip with friends who may be living at Fort Jackson as well.
ATLANTA – 2 HOURS: If you're missing the hustle and bustle of a big city, head west on I-20 into Atlanta. Favorites here include the Coke Museum, the Aquarium, and anything sports related. You can also occasionally find better deals on flights out of Atlanta than Augusta.
SAVANNAH – 2.5 HOURS: Head southeast towards the coast, and you'll fall in love with Savannah. The history is alive and well here, with gorgeous homes and manicured parks. Tybee Island would be a great family outing while visiting the Savannah area as well. And of course, you'll want to connect with friends at Fort Stewart or Hunter Army Airfield. But don't go on St. Patrick's Day, whatever you may have read. It's just not worth it.
CHARLESTON – 3 HOURS: The cobblestone streets of the port city of Charleston are enough to win anyone over. This area is excellent for a weekend getaway, with or without kids. Visit Fort Sumter, Magnolia Plantation, or the 4-block city market while you're there. Enjoy a stroll downtown and view the architecture that brings antebellum history alive.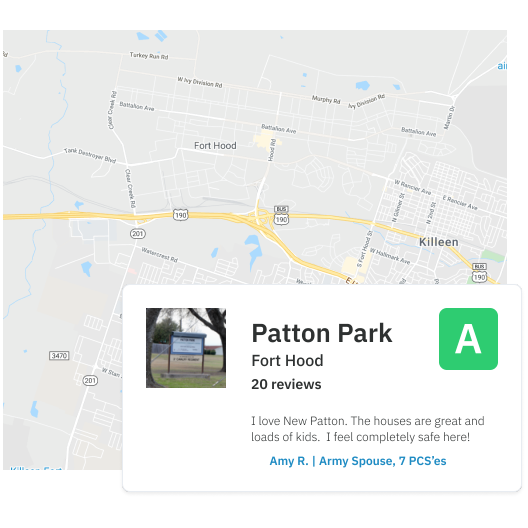 Research Your Area Before Your Move
Discover area guides and trusted reviews by and for the military and veteran community for local neighborhoods, base housing, moving companies, lenders, schools, and more.
Access Review