Fort Bragg
Fort Bragg is located close to Fayetteville, North Carolina almost in the middle of the state. Fort Bragg is one of the largest Army installations in the world. Nearby counties include; Cumberland, Harnett, Hoke, and Moore. Popular cities within Cumberland County are Fayetteville, Eastover, Spring Lake, Hope Mills, Linden, and Wade. Harnett County includes many small towns such as Lillington, Dunn, Erwin, Coats, and Bunn Level. Hoke County provides the popular town of Raeford and Moore County has the well-known golf town of Southern Pines, Pinehurst, Aberdeen, Whispering Pines, Vass, and Cameron.
Read More
Off-Base Neighborhoods
Due to the sheer size of Fort Bragg, it's necessary first to find out which part of post the service member will be working on, then find the closest geographical area off post in that particular section. Commute time could turn from 20 minutes to 45 minutes depending on the above factors, so thoroughly research. Some popular neighborhoods off post are the Jack Britt area and Southern Pines.
On Base Housing
Corvias Military Living is the leasing agent for on-post living. It's a good idea to do thorough research of on-post housing before committing to it. Due to the history and age of Fort Bragg, some housing options are in better condition than others. Check out all of your options prior to making a decision and signing a lease. A lease is not easily broken if you move in and are dissatisfied with your living space. Convenience is the biggest reason why families choose to live on-post.
Schools
Military families at Fort Bragg are lucky to have DoDEA schools on base. There are a total of 11 schools on base serving families in base housing with children ages Pre-K through 8th grade. DoDEA schools are known for their high quality education and ability to meet the needs of military families. There are high schools in Cumberland County and Harnett County, and students have the option to complete a choice application for the one they want to attend.
Cost of Living and BAH
Fort Bragg BAH varies depending on rank and whether or not you have dependents. To determine your BAH at Fort Bragg, use our BAH calculator.
BAH Calculator
Housing Costs
The median home cost in the Fayetteville area is $135,000 making it a very attractive place to buy. The Southern Pines area is a favorite of military families even with the 40-minute commute but averages $268,000 to buy a home.
Weather
Fort Bragg weather varies, but North Carolina does have four seasons. A mild climate sums up Fort Bragg pretty well as agriculture is booming in this area throughout three of the four seasons. From late December to early March is considered winter time with lows in the 20's and highs in the 60's. Mid-March through early Mid springtime with warm days, cool nights, and a multitude of rain. Late May through early September is summer time with highs sometimes reaching into the 100's and lows in the 60's. Mid-September through Mid-December is fall with temperatures varying from lows in the 50's to highs in the 70's.
Base Amenities
A large installation like Fort Bragg has many perks. There are two Commissaries, several PX's, the Iron Mike Conference Center, fourteen fitness centers, Army Community Services that offers classes and resilience training programs, and the U.S. Army Morale, Welfare, & Recreation (MWR) that organizes many fun events across post. If being outdoors is your forte, Fort Bragg will be a perfect place for you. Points of interest across post include McKellers Lodge, Tank Trail, Mott Lake, Smith Lake, Area J, and Flight Line Park.
Area Attractions
Downtown Fayetteville offers an array of restaurants, shopping, coffee shops, dessert cafes, and many family fun activities throughout the year. Southern Pines is the home to golf resorts, shopping, and the famous R. Riveter. Outdoor recreation-Cape Fear Trail, Raven Rock, Zipquest Waterfall and Treetop Adventure, Aloha Safari Zoo, and the Cape Fear Botanical Gardens. Indoor recreation-Paraclete XP Indoor Skydiving, Airborne and Special Operations Museum, Triangle Rock Club, and Defy Fayetteville.
Have a toddler or preschooler? Make sure to check out the local chapter of Tiny Troops Soccer to help your little one PCS with fun, soccer, and friends!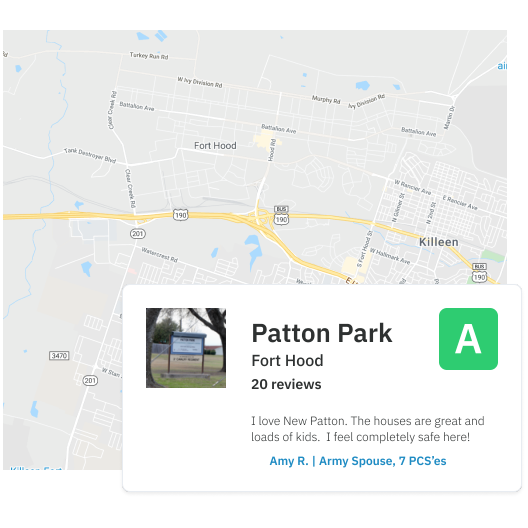 Research Your Area Before Your Move
Discover area guides and trusted reviews by and for the military and veteran community for local neighborhoods, base housing, moving companies, lenders, schools, and more.
Access Review