Fort Benning
Columbus, which sits right outside Fort Benning, is the second largest city in Georgia. There's so much to do and see in Columbus that you don't need to travel far for anything you might need, like you might at other installations. There are several things you should know about Fort Benning and the surrounding area prior to your PCS. The first is that life is better at Benning. The "Better at Benning" campaign kicked off in 2016 in an effort to dispel some myths about the installation. You've probably heard the rumors too: Fort Benning is miserable…don't live in Columbus…there's so much crime…there's nothing to do. Ladies and gentlemen, this is seriously bad intel. Anyone who has been stationed at Fort Benning in the last five years can confirm that Fort Benning and the surrounding area have come a looooong way since the 90's, which is undoubtedly how old these rumors are, if not older.
Read More
Off-Base Neighborhoods
The vast majority of soldiers stationed at Fort Benning live off-post with their families in Columbus. When you ask people where they live, they usually refer to which I-185 exit they live off of. Many families live off Exit 10 (about a 25-minute drive). Fort Benning sits at the southern end of I-185, and the end of the highway is actually the main gate to the installation.
Aside from Columbus, people typically live in Fort Mitchell, AL or Phenix City, AL. Depending on where you'll be working on post, you may want to look into one of these cities for either a shorter drive or quieter living. People often worry about the time zone, as Alabama is CST and Georgia is EST, but anyone who lives across the river just operates off EST. In fact, many businesses in the cities closest to Fort Benning on the Alabama side will operate off EST since the majority of their clientele comes from Georgia.
On Base Housing
Living on post at Fort Benning is a great option. It can save you tons of gas money with the amount of traffic leaving the installation every day. As with most duty stations, living on post saves you lots of travel time. However, on-post housing at Fort Benning is in high demand and often has a 6-month waitlist. The Villages of Benning manage approximately 4,000 houses on post. Most utilities are covered in the on-post housing options and there's no pet deposit or pet rent! Here's a fun fact: the historic housing and Doughboy Stadium is highly recognizable from the movie We Were Soldiers, which was partially filmed on Fort Benning.
Schools
Fort Benning schools are managed by DoDEA. There are four elementary schools on Fort Benning and one middle school. These are for military children who live on post. High school students living on post, and students of any age living off post, will attend schools in one of the neighboring school districts: Muscogee County, Chattahoochee County, Russell County, or Lee County.
Cost of Living and BAH
Fort Benning BAH matches the moderate cost of living in the area. You are near the city of Columbus and should have many options whether you want to buy or rent in the surrounding area. Fort Benning BAH ranges from $936 to $1,593 for enlisted. BAH at Fort Benning begins at $1,077 for O1 without dependents and goes up to $1,749 for O7 with dependents.
BAH Calculator
Housing Costs
The median home cost in Columbus, Georgia is around $140,000. That said there is housing available at many different price ranges, anywhere from right at $100,000 all the way up into the 3k and 4k range.
Weather
Do you love snow and winter?! Hopefully, you won't miss that season too much because it's virtually non-existent here. There is Summer, however. Summer runs from about March through October. Then Fall lasts until Christmas at which time there's a brief Spring until Summer shows up again. No joke, my tulips started sprouting in January. Ok, so I might be slightly exaggerating. About every other year there is an actual winter; mostly ice and freezing temperatures and occasional snow. Regardless, when winter decides to show up, the installation shuts down.
The other unique climate feature of the area is tornado season, which runs from about March through May. Not trying to be an alarmist here, but Georgia tornadoes are no joke.
Base Amenities
Fort Benning has the new Martin Army Community Hospital, which opened in 2014. In addition to the Commissary, PX, bowling alley, and several restaurants, you will discover that Fort Benning also has a golf course, campground and marina, and a recreational shooting complex run by MWR.
The most popular Fort Benning events are Independence Day, Oktoberfest, Best Ranger Competition, and the Tri-Community Field Day (a day of fun and sports for all kids enrolled in the Exceptional Family Member Program on post, along with special needs children from the counties surrounding post). Additionally, just outside the gate sits the National Infantry Museum, which was recently voted the #1 free museum in the United States. A PCS to Fort Benning would be incomplete without visiting the NIM at least once!
Area Attractions
If you're looking to get away or explore for a little bit, there's plenty within a short drive from Fort Benning!
CALLAWAY GARDENS (45 MIN AWAY): There is so much to do here; zip-lining, water sports, golfing, hiking, etc. There's always a big event going on, but if you go to just one, I'd highly recommend Fantasy In Lights during the holidays. It's the Southeast's largest holiday lighting event.
ATLANTA (1.5 HOURS AWAY): You could easily take a day trip to Atlanta, but make sure to avoid the rush hour if you're heading up on a Friday night or any weekday. It may very well keep you stranded for an additional 1-2 hours. The Hartsfield-Jackson Atlanta International airport is at the base of Atlanta. You only have to drive an hour to access one of the country's largest airports.
DESTIN, FL (4 HOURS AWAY): Beautiful white sand beaches await you here! Destin is very popular because there is a MWR recreation area with lodging that is a great deal for service members and their families. It fills up fast, so make reservations months in advance if possible.
PANAMA CITY BEACH, FL (3.5 HOURS AWAY): Just slightly closer than Destin to Fort Benning is good 'ol PCB. Again, the beaches and water are amazing and you could easily travel here for a regular weekend getaway. Hotels are cheaper here than in Destin. It is also a very popular Spring Break location. So unless you want to be around thousands of rowdy college kids, avoid the month of March entirely.
AUBURN (1 HOUR AWAY): Home of the Auburn University Tigers, this eastern Alabama city is definitely one for the books. Attend a football game, tour the town for some great eats (and drinks), or visit Chewacla State Park for some hiking!
SAVANNAH (3.5 HOURS AWAY): A true gem of the South, Savannah is one of those places you just have to visit. And unless you're stationed at Fort Stewart or Hunter Army Airfield, being at Fort Benning is about as close as it gets. There's so much history and beautiful scenery to enjoy, so I would definitely recommend a trip here over a long weekend!
Have a toddler or preschooler? Make sure to check out the local chapter of Tiny Troops Soccer to help your little one PCS with fun, soccer, and friends!
Food and Drink
There's a lot to love about the food scene near Fort Benning, but you cannot throw a stone without hitting a BBQ joint around here. Welcome to the South, right?! This is truly a cuisine that I'm going to miss when I PCS. Aside from BBQ, there are plenty of different options in the neighboring military towns. Most people venture to Uptown Columbus to get their grub on. Uptown (not downtown!) is considered the heart of Columbus and has undergone some significant renovation in the last 10 years. There's always a new restaurant popping up!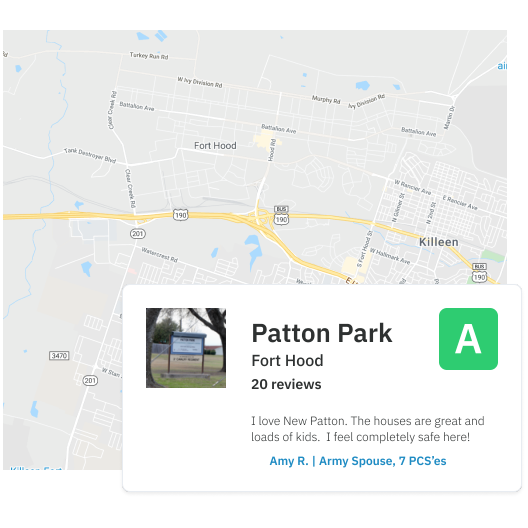 Research Your Area Before Your Move
Discover area guides and trusted reviews by and for the military and veteran community for local neighborhoods, base housing, moving companies, lenders, schools, and more.
Access Review